desertcamo_fett
desertcamo_fett
By Shooter
Date: 07-12-2007
Screenshots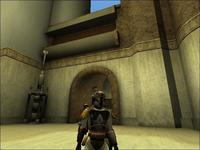 Readme

README-------------------------------------------------

TITLE: desertcamo_fett
AUTHOR: Shooter
E-MAIL: stacytag@yahoo.com

CREDITS: Thanks goes out to Theif, Lord Leverette, and Fallen for helping me figure out how to skin.

INSTALLATION INSTRUCTIONS: Take the pk3 file and extract it to your jedi academy base folder.

DESCRIPTION: Its pretty much the name.Boba Fett but with a desert camo pattern.

BUGS: None as far as i know.

THIS MODIFICATION IS NOT MADE, DISTRIBUTED, OR SUPPORTED BY ACTIVISION, RAVEN, OR
LUCASARTS ENTERTAINMENT COMPANY LLC. ELEMENTS TM & © LUCASARTS
ENTERTAINMENT COMPANY LLC AND/OR ITS LICENSORS.