Karate Master
Karate Master
By gaara2450
Date: 02-26-2007
Screenshots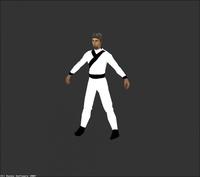 Readme
**********************
JediKnight:JediAcademy
**********************

TITLE:KARATE_MASTER
AUTHOR:Gaara2450
E-MAIL:tullric@xyberwolf.com
WEBSITE:http://Jediknight2.filefront.com

FILE NAME:KARATE_MASTER
SIZE:1,106KB (for pk3)
DATE RELEASED: 2/23/2007

CREDITS: Well My Friend That Plays Gave Me The Idea And Told Me To Use
A Emblumbe On The Back So I Choose That One So The Credite Me And My Friend

INSTALL:put the KARATE_MASTER.pk3 in your gamedata base folder
(default location: C:\Programfiles\lucasarts\gamedata\base)

DESCRIPTION:Well i was tierd of the no karate skin for melee
so i made a karate skin hope you like it

BUGS:well i noticed a litle texture detail that i cant fix :( (sry) but
i did the best i can so you can have a melee model pluse ther is a litle tiny
little belt on the back and a little big on the front wich means the front
were the sash comes down from the neck in the screen shots will conflict with
graphics but not a mater.

COMMETS:WELL MY FRIENDS LIKED THIS MODE AND THEY SUDGEST I PAST IT HERE SO YAY!

THIS MODIFICATION IS NOT MADE, DISTRIBUTED, OR SUPPORTED BY ACTIVISION, RAVEN, OR
LUCASARTS ENTERTAINMENT COMPANY LLC. ELEMENTS TM & © LUCASARTS
ENTERTAINMENT COMPANY LLC AND/OR ITS LICENSORS.