Nepharian´s Droids
Nepharian´s Droids
By Krynn_Cole
Date: 12-29-2006
Screenshots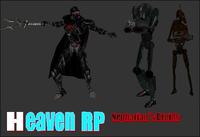 Readme
ø***********************************
Jedi Knight: Jedi Academy
***********************************
TITLE: Heaven RP: Nepharian´s Droids
AUTHOR: Krynn_Cole
E-MAIL: friendofthez@hotmail.com
WEBSITE: http://brugere.bakkerne.dk/~mark/www/index.html

FILENAME: Nepharian´s Battledroid.pk3, Nepharian´s SBD.pk3 and Nepharian´s Magna.pk3
FILESIZE: 3.29 MB
DATE RELEASED: 25 Dec. 2006

CREDITS: all credits goes to Chairwalker for the SBD, Mars Marshall "NeoMarz1" for the MagnaGuard VM and Prophet for the Battledroid.

INSTALLATION INSTRUCTIONS: Iextract the three .pk3 files to your base folder.

DESCRIPTION: RPG skins. Nepharians droids.

BUGS: no new sounds :( cant figure out how to add them.

COMMENTS: Enjoy the skins! and if u ever want to meet Nepharian or hes droids, visit Heaven RPG server.

THIS MODIFICATION IS NOT MADE, DISTRIBUTED, OR SUPPORTED BY ACTIVISION, RAVEN, OR
LUCASARTS ENTERTAINMENT COMPANY LLC. ELEMENTS TM & © LUCASARTS
ENTERTAINMENT COMPANY LLC AND/OR ITS LICENSORS.