Canadian Mountie Lando
Canadian Mountie Lando
By nick hobson
Date: 12-04-2006
Screenshots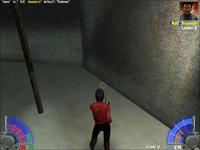 Readme
TITLE:Candian mountie lando
AUTHOR: nick hobson
E-MAIL: nick_herban@hotmail.com
WEBSITE: N/A

FILENAME:CM_.pk3
FILESIZE: 1.10 mb
DATE RELEASED: 20 november 2006

CREDITS: I'd lyk to give credit to bael for his handy skining tutorial an rainus (ex-NJO)

INSTALLATION INSTRUCTIONS: put the .pk3 file into your 'JediKnight:JediAcademy/GameData/base' folder

Enjoy it!:)

DESCRIPTION:a canadian mountie lando
BUGS: n/a

COMMENTS: plz give me some feedbak and ideas

THIS MODIFICATION IS NOT MADE, DISTRIBUTED, OR SUPPORTED BY ACTIVISION, RAVEN, OR
LUCASARTS ENTERTAINMENT COMPANY LLC. ELEMENTS TM & © LUCASARTS
ENTERTAINMENT COMPANY LLC AND/OR ITS LICENSORS.