Django (1.0)
Django (1.0)
By Denariax
Date: 09-18-2006
Version: 1.0
Screenshots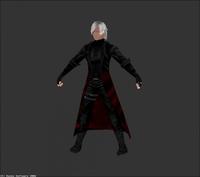 Readme
Title: Django (1.0)
Author: Denariax
Email: Denariax@hotmail.com
Website: none

Filename: django.pk3
Filesize: 3 mb
Date Released: 9/7/2006

Credits: I would like to give credits to Graves, for making the Dante skin.
I would also like to give some credits to the maker of the Vincent Valentine
V1 skin on PCGameMods. I used some of his for this skin. Also, Apollyon, for the hands, which I took from his DMC3 Dante.

Installation Instructions: Put the PK3 in your base. If you have the any of the beta's, this WILL go over them.

Description: A skin of Dante to make it look like Dante from DMC2.

Bugs: Couldn't find any. No, seriously.

THIS MODIFICATION IS NOT MADE, DISTRIBUTED, OR SUPPORTED BY ACTIVISION,
RAVEN, OR
LUCASARTS ENTERTAINMENT COMPANY LLC. ELEMENTS TM & © LUCASARTS
ENTERTAINMENT COMPANY LLC AND/OR ITS LICENSORS.