Scarred Desann
Scarred Desann
By The_User
Date: 05-31-2006
Screenshots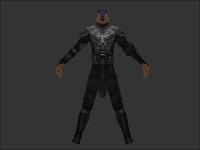 Readme
Title: Scared Desann
Author: The_User



Filename: testskin
Filesize: 1.18mb
Release Date: 5/30/06


Credits: I used Pakscape, Modview, and the original Desann file.


How To Install: To install put the pk3 in you Base folder(C:program files/lucasarts/jedi knight: jedi academy/gamdata/base incase you don't know).
Enjoy!:)

Description: It's a desann in black and grey with a scare above his left eye(from his point of view.

THIS MODIFICATION IS NOT MADE, DISTRIBUTED, OR SUPPORTED BY ACTIVISION, RAVEN, OR
LUCASARTS ENTERTAINMENT COMPANY LLC. ELEMENTS TM & © LUCASARTS
ENTERTAINMENT COMPANY LLC AND/OR ITS LICENSORS.