Final Fantasy Fighter Kyle
Final Fantasy Fighter Kyle
By Vincent Valentine
Date: 03-17-2006
Screenshots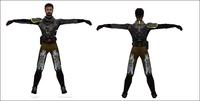 Readme
TITLE: Final Fantasy Fighter Kyle

AUTHOR: Vincent Valentine

EMAIL: ninjaninjaninja34@hotmail.com

FILENAME: Final Fantasy Kyle.pk3

FILESIZE: 825.738KB

DATE RELEASED: 18 February 2006

CREDITS: thanks to me for making the reskin, Square-enix for final fantasy and Lucasarts and ravensoft for Jedi academy and Kyle.

INSTALATION: put the pk3 file into your gamedata/ base directory!!!

DESCRIPTION: This is my first skin ever!!! And the first in the series. I plan on doing skins similar to this for other characters (eg. Red mage rosh, Samurai Luke, Ninja Tavion).
This skin is basically a re-skin of Kyle based from the fighter class in the final fantasy series, he has got armour a picture of Greiver on his chest and pictures of ex-death on his legs.

BUGS: No known bugs.


THIS MODIFICATION IS NOT MADE, DISTRIBUTED, OR SUPPORTED BY ACTIVISION, RAVEN, OR
LUCASARTS ENTERTAINMENT COMPANY LLC. ELEMENTS TM & © LUCASARTS
ENTERTAINMENT COMPANY LLC AND/OR ITS LICENSORS.