Elemental Lightning
Elemental Lightning
By Unknown_Sith
Date: 07-01-2005
Screenshots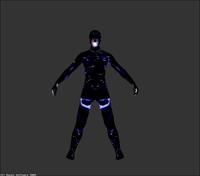 Readme
****************************
Jedi Knight: Jedi Academy
****************************

TITLE: Lightning Elemental
Author: Unknown_Sith
E-MAIL: unknown_sith13@yahoo.com
WEBSITE: N/A

FILENAME: elemental_lightning.pk3
FILESIZE: 255 kb
DATE RELEASED: 30 June 2005

NEW TEXTURES: No
NEW SOunds: No
Bot SUpport: Yes

CREDITS: All the folks at Raven, LucasArts, and maybe even ActiVision, for collaborating on such a great game. (and making the textures I used.) Thanks also go to Bael at bael_2@msn.com, for his "Bael's Video Skinning Tutorial," without which it would have taken me a heck of a lot longer to figure out how to do this.

INSTALLATION INSTRUCTIONS: Unzip the pk3 file into the GameData/base directory.

DESCRIPTION: A skin with bot support/personality, Useable as a skin and/or a bot.

BUGS: I couldn't find any, other than it had a disturbing tendancy to suddenly appear behind me and fry me with lightning, but I don't think that really qualifies as a bug.

COMMENTS: This bot really seemed to fit in well with JadoGoth's "Wrecked Alien Spacecraft" map. Reasonably difficult bot, it managing to kill me about as many times as I could kill it. (This may be a shameful admittance of my own pitiful skills, but I'll be honest.) Could be the first of an "Elemental" series of skins from me, it depends on how well all of you like it. (By the way, this is my first skin, so I would appreciate any tips or tricks that you would have time to send me, o great masters of skinnning!)

THIS MODIFICATION IS NOT MADE, DISTRIBUTED, OR SUPPORTED BY ACTIVISION, RAVEN, BIOWARE, OR
LUCASARTS ENTERTAINMENT COMPANY LLC. ELEMENTS TM & © LUCASARTS
ENTERTAINMENT COMPANY LLC AND/OR ITS LICENSORS.