Sid Vicious
Sid Vicious
By Steezy/Sid Vicious
Date: 04-09-2004
Screenshots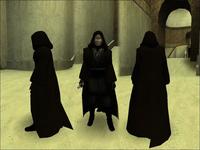 Readme
Yeah this is my personal skin, and my first
Name: Steezy/Sid Vicious
E-mail: Lookout3269@hotmail.com

I felt like making my own skin, so i did, its based off of leon - sorrow model (author - leon) not miuch changed, i ade the robes all black, and made his hair blonde, his eyes all white for like an undead look, and a blue scar on his right eye. hope you like it as much as i do... e-mail me with your comments if you want to.

all you need to do to install it is to extract the files into your C:\Program Files\LucasArts\Star Wars Jedi Knight Jedi Academy\GameData\Base folder.

Once again this is just a small re-skin of leon's Leon-Sorrow model, so the credit really goes to him.