stormelite (2.0)
stormelite (2.0)
By Silence
Date: 08-25-2008
Version: 2.0
Screenshots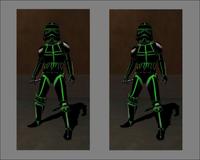 Readme
**********************************************
JEDI KNIGHT II MODIFICATION - SKIN
**********************************************

Title :stormelite 1.3
Author :Silence
E-Mail :Classified
Website :None existant

File Name :stormelite 1.3.zip
File Size :315kb
Date Released :15/8/08
Installing : Unzip the zip folder to star wars jediknight2/gamedata/base
Changes : This version includes new team support!
Description/story : I decided that my skin should have a story behind it rather than a description. When the empires stormtropers realeased how good the new shadowtroopers were they knew that they would one day be replaced by them. They could not let this happen so one volunteer was enfused with the force with stolen lightsaber crystals and cortosis stormtrooper armour was built for him. He was the first ever stormelite who would used to defeat the shadowtroopers. And that is who my skin is.
Comments : Thanks to everyone at jk2 files for the comments, they've all been taken into account. hope you like this skin as well!

THIS MODIFICATION IS NOT MADE, DISTRIBUTED, OR SUPPORTED BY ACTIVISION, RAVEN, OR
LUCASARTS ENTERTAINMENT COMPANY LLC. ELEMENTS TM & � LUCASARTS
ENTERTAINMENT COMPANY LLC AND/OR ITS LICENSORS.