King Kron
King Kron
By KAZZZ
Date: 09-27-2003
Screenshots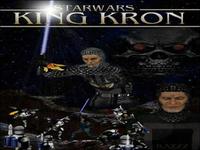 Readme
***************************
JEDI KNIGHT II MODIFICATION
***************************

Title : Kron-Jedi Legend
Author : KAZZZ
Icq# : 110933312

File Name : Kron.zip
File Size : 1.28 Megs
Date Released : 2002

Description : Long before the Skywalkers...Long before the Republic...There was KRON...
One hundred years before the Republic there was only war and one of the most
legendary figures of the time was KRON.He lived for three hundred years the oldest human
ever,He faught many wars and was never injured his skill was unriveld.In his youth he was
known as JET-SUNSTREAM a reckless Jedi who proved himself in battle time and time
again.He helped form the Republic in the Mandalorian wars and was proclamed King KRON
of the planet KRONAKK where he built a Great Kingdom with his Queen Vizor Tan.After the
death of his Queen,KRON mysteriously disaperd and was not herd from for 50 years when
he reappeard on the planet Naboo as a SithLord named DARTH-MAGUS and took an apprentice...

Saber Color : Blue:He called his saber the Warped Griffen.

Support : Bot and Team Colors!}}}---> BLUE:JET-SUNSTREAM RED:DARTH-MAGUS

Sounds : Source StarWars StarFighter.

Comments : Big ups to Notra for the idea after looking at his skin Narzaal.The 1st of 10 new skins.

Thanks and Credit : Notra-Zymotico-Turbine_Angel-Raven-JediKnightii.net!

Installation : Extract Kron.pk3 to the \gamedata\base directory under your Jedi Oucast game directory.
Uninstallation : Delete the Kron.pk3 from the Jedi Outcast\gamedata\base directory.

THIS MODIFICATION IS NOT MADE, DISTRIBUTED, OR SUPPORTED BY ACTIVISION, RAVEN, OR
LUCASARTS ENTERTAINMENT COMPANY LLC. ELEMENTS TM & © LUCASARTS
ENTERTAINMENT COMPANY LLC AND/OR ITS LICENSORS.