Ceremonial Luke
Ceremonial Luke
By Expert
Date: 05-12-2003
Screenshots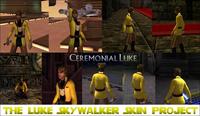 Readme
***************************
JEDI KNIGHT II MODIFICATION
***************************

Title : Ceremonial Luke
Authors : Expert
E-Mail : Razerstar@gmx.de --Additional: wangdexian2001@hotmail.com(Wangdexian)
raitenks@web.de(The Raitenks)
Website : http://www.wangdexian.cjb.net

File Name : cl.pk3
File Size : 1.24 MB
Date Released :

Description : This shows Luke Skywalker as seen in the last scene of EP4 - A New Hope
where Luke and Han receive their medals from Leia.This skin belongs to the Luke Skywalker Skin Project,
our goal is to skin all the costumes Luke wears in the movies and also the comics.

Installation : extract the cl.pk3 file to your Gamedata/base folder.

Credits : Credit for Alphan_Jijua for some textures.


THIS MODIFICATION IS NOT MADE, DISTRIBUTED, OR SUPPORTED BY ACTIVISION, RAVEN, OR
LUCASARTS ENTERTAINMENT COMPANY LLC. ELEMENTS TM & © LUCASARTS
ENTERTAINMENT COMPANY LLC AND/OR ITS LICENSORS.