Alternate Dark Kyle - SP version
Alternate Dark Kyle - SP version
By Vandori
Date: 03-17-2003
Screenshots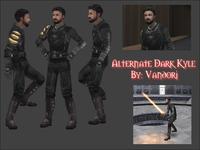 Readme
***************************
JEDI KNIGHT II MODIFICATION
***************************

Title : Alternate Dark Kyle - SP version
Author : Roman 'Vandori' Trevisanut
E-Mail : enforcervw@earthlink.net
Website : None

File Name : alternate_kyle_SP.pk3
File Size : 700k
Date Released : Thursday, April 18, 2002

Description : This is an alternate version of Kyle Katarn with a darker (and more stylish) look. The skin adds a pcv/leather patch to his arm, leather shoulder/torso armor, blue eyes, a scar on his face, brow piercing, black hair, gold trim and new boots.

This version is intended for use as a singleplyer replacement and won't work online.

Comments : I didn't line up the shoulder seams perfectly, I meant to though. Perhaps in a later version? This skin looks very good with an orange or blue saber.


THIS MODIFICATION IS NOT MADE, DISTRIBUTED, OR SUPPORTED BY ACTIVISION, RAVEN, OR
LUCASARTS ENTERTAINMENT COMPANY LLC. ELEMENTS TM & © LUCASARTS
ENTERTAINMENT COMPANY LLC AND/OR ITS LICENSORS.