TK-962's AT-AT Pilot for JK2 (1.0)
TK-962's AT-AT Pilot for JK2 (1.0)
By TK-962
Date: 09-07-2010
Version: 1.0
Screenshots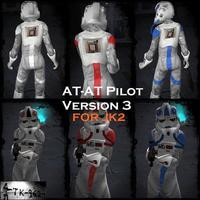 Readme
-----AT-AT Driver Skin VERSION 3 for JK2------
Made by: TK-962
Email: porkinspullup@gmail.com

Filename: atat_pilotv3.pk3
Date Released: August 24, 2010
Installation: Put the .pk3 file in your LucasArts/GameData/base folder

Credits: A HUGE thanks to Averus Retruthan for that good picture of the At-At pilot, because I couldn't find a good picture of him until then. Jp-30 for his At-At pilot's shoulder pads that I borrowed (mine were terrible.) And finally myself.

Description: I have made MANY changes to this skin since version 1.0 and I think that FINALLY I have achieved making one of the most realistic At-at pilots possible. There are still a few very minor things that I have to touch up for all of the Star Wars nerds that notice every little off detail about the skin. Depending on the feedback I get for this skin I MAY make a 3.5 skin. BTW I fixed the "error" that made the skin overwrite the Stormpilot.

This Edition is for people with Jedi Outcast. Please note that this edition has seen minimal testing and some of the features might not work.

CAN BE USED AS LONG AS CREDIT IS GIVEN. HAVE FUN!!!!!!!!!!!!!!!!!!!!!!!!!

--------------------------------------------------
THIS MODIFICATION IS NOT MADE, DISTRIBUTED, OR SUPPORTED BY ACTIVISION, RAVEN, OR LUCASARTS ENTERTAINMENT COMPANY LLC. ELEMENTS TM & LUCASARTS ENTERTAINMENT COMPANY LLC AND/OR ITS LICENSORS.