Commander Appo (3.0)
Commander Appo (3.0)
By Clonehunter
Date: 03-10-2010
Version: 3.0
Screenshots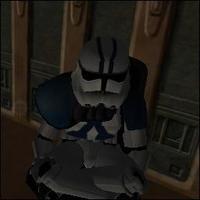 Readme
1-March-2010
Author:Clonehunter
File: Commander Appo V3
Description: Final and third version of my original Commander Appo skin. Whats new? Team skins, new bot file,
NPC support, and a poludron! Why? Well lets say this is the stormtrooper version of App0, rather
than the clonetrooper version... It could be a clone... Anyways, Visors black, darker blue, team skins,
what more to say?
Well its here! I actualy finished this a long time ago, but only now do I finally release it!

Installation: Move pk3 file to base folder in gamedata.

Contact: clonehunter@yahoo.com

License:
THIS PRODUCT IS NOT MADE, DISTRIBUTED, OR SUPPORTED BY ACTIVISION, RAVEN, OR
LUCASARTS ENTERTAINMENT COMPANY LLC. ELEMENTS TM & © LUCASARTS
ENTERTAINMENT COMPANY LLC AND/OR ITS LICENSORS.