My skin
My skin
By Heiko
Date: 06-12-2006
Screenshots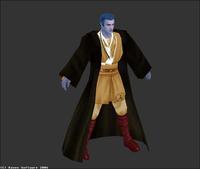 Readme
***********************************
Jedi Knight: Jedi Academy
***********************************
TITLE: My Skin
AUTHOR: Jeff Price
E-MAIL: Heiko.Iaius@gmail.com


FILENAME: Heiko.pk3
FILESIZE: 614 kb
DATE RELEASED: June 10, 2006

CREDITS: The original Anakin skin readme was included in the zip under "original file readme.txt". I do not take credit for making the skin, just editing it. The glowing eyes are there thanks to Zyren.

INSTALLATION INSTRUCTIONS: To install this file, just extract it to your base folder inside your installation directory. ex: C:\Program Files\LucasArts\Star Wars Jedi Knight Jedi Academy\GameData\base

DESCRIPTION: This is a reskin of Anakin Skywalker made out to be a Chiss Jedi.

COMMENTS: Thanks to anybody who downloads this skin. Anybody is free to use this as their own skin as long as credit is given where credit is due.

THIS MODIFICATION IS NOT MADE, DISTRIBUTED, OR SUPPORTED BY ACTIVISION, RAVEN, OR
LUCASARTS ENTERTAINMENT COMPANY LLC. ELEMENTS TM & © LUCASARTS
ENTERTAINMENT COMPANY LLC AND/OR ITS LICENSORS.