Coleman Trebor Reskinned
Coleman Trebor Reskinned
By DarthScorpion
Date: 05-19-2006
Screenshots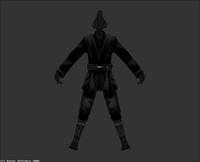 Readme
Name author: DarthScorpion aka D'akim Dragco
Title; Trebor Re-skined.
Email; rheykant@chello.nl
website; AJOClan.com

File name; Coleman_TreborRe.pk3
Size; 5,915 kB
Date released; 18 may 2006

Credits go to;
Psyk0Sith / Inbredyokel / NeoMarz1 / DarkLord60 / Mookey
Full credit goes to them. I have put the original readme and
some screenshot in the zip file.

Instalation; Unzip this anywhere you want and place the pk3 in your base folder
Example
....C:/Program files/LucasArts/Star Wars Jedi Knight Jedi Academy/gamedata/base..

To uninstal just delete the pk3 from your base folder


Description;

This is my personal skin. I have altered the team skins to be recoulars of the
2 original jedi skins. One has a red skin tone, with red element on his clothing.
The other has a green skin tone with similar colouring of his clothes as the red one,
only green.The sith version is altered to have more of a darkgrey skin tone, but has no other changes.

Bugs;
As far as bugs goes, i havnt found any new ones, nore have i removed those that there where, if there where any.

THIS MODIFICATION IS NOT MADE, DISTRIBUTED, OR SUPPORTED BY ACTIVISION, RAVEN, OR
LUCASARTS ENTERTAINMENT COMPANY LLC. ELEMENTS TM & © LUCASARTS
ENTERTAINMENT COMPANY LLC AND/OR ITS LICENSORS.