Kaeros (v2)
Kaeros (v2)
By Kaeros
Date: 05-17-2006
Version: v2
Screenshots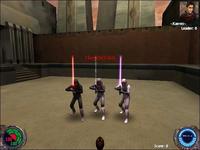 Readme
***********************************
Jedi Knight: Jedi Outcast
***********************************
TITLE: Kaerosv2
AUTHOR: Kaeros
E-MAIL: Kaeros@kotfbrotherhood.org
WEBSITE: kotfbrotherhood.com (Note this is for a clan in progress we don't have a server or anything yet)
CATEGORY: Skins/others

FILENAME: Kaerosv2.pk3
FILESIZE:
DATE RELEASED: 8:13 PM 5/16/2006

CREDITS:

INSTALLATION INSTRUCTIONS: Put the Kaeros.pk3 in your base: C:\Program Files\LucasArts\Star Wars JK II Jedi Outcast\GameData\base. It will be C: only if Jedi Knight is installed on disk C.

DESCRIPTION: Version 2 of Kaeros. Includes bot support and team colors.

BUGS: No known bugs.

COMMENTS: I would still apreciate tips on skinning, ideas, or even skin requests if you dare give them to me. :) -Kaeros

THIS MODIFICATION IS NOT MADE, DISTRIBUTED, OR SUPPORTED BY ACTIVISION, RAVEN, OR
LUCASARTS ENTERTAINMENT COMPANY LLC. ELEMENTS TM & © LUCASARTS
ENTERTAINMENT COMPANY LLC AND/OR ITS LICENSORS.