Bahamut
Bahamut
By The Death
Date: 03-16-2003
Screenshots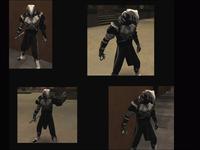 Readme
Skin Title:

White desann or bahamut


Author Information:

Skin Made by:DEATH
SavageRite@cox.net



Installation:

Just unzip the .zip file to your base directory, which is usually
"C:\ProgramFiles\LucasArts\GameData\Base"

r skin. In version three I give rex some team support. Although it sounds kind of stupid to have blue team skins for "CRIMSONrex", the blue looks nice! Both skins have new additions to the armor, legs, arms, and torso. More designs = more coolness! =D have fun with it people!