Sliver
Sliver
By ReptileJedi
Date: 02-17-2003
Screenshots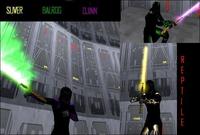 Readme
***************************
JEDI KNIGHT II MODIFICATION
***************************

Title : Sliver
Author : Reptile
E-Mail : jedireptile@yahoo.se
Website :

File Name : Sliver.pk3
File Size : 1.5 Mb
Date Released : 021124

Description : Place the pk3 file in base

Comments : I have modified the reborn skin... as if there aren´t enough of those already...:)
I´ve added other sounds and. These skins have bots and ctf/tffa support.


THIS MODIFICATION IS NOT MADE, DISTRIBUTED, OR SUPPORTED BY ACTIVISION, RAVEN, OR
LUCASARTS ENTERTAINMENT COMPANY LLC. ELEMENTS TM & © LUCASARTS
ENTERTAINMENT COMPANY LLC AND/OR ITS LICENSORS.