IKBR Clan Skin for TecknoMike
IKBR Clan Skin for TecknoMike
By IKBR TecknoMike{SLH}
Date: 08-04-2003
Screenshots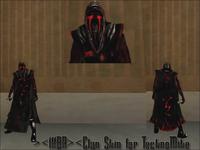 Readme
***************************
JEDI KNIGHT II MODIFICATION
***************************

Title : ><IKBR><Clan Skin for TecknoMike / TecknoMike
Author : ><IKBR><TecknoMike
E-Mail : michael1991@hotmail.com
Website : www.freewebs.com/mikesgamepage / www.ikbr.tk

File Name : TecknoMikefv.pk3
File Size : 586-608Kb
Date Released : July 2003

Description :A custom Phyrexian Preist made by myself ><IKBR><TecknoMike

Comments :First I want to give credit to Willz for makeing the phyrexian preist model
also the other version of this skin has sounds that do not qualify to be on jk2files.com
so i decided to follow the rules and i took all sounds that have cursing and replaced them with
sounds that are not offensive to younger people. And last U can Find My orginal Version at a website i made
www.freewebs.com/mikesgamepage go to the downloads section to find it! Enjoy!! :)

Installation : Just put the *.pk3 file into your Gamedata\base directory


THIS MODIFICATION IS NOT MADE, DISTRIBUTED, OR SUPPORTED BY ACTIVISION, RAVEN, OR
LUCASARTS ENTERTAINMENT COMPANY LLC. ELEMENTS TM & © LUCASARTS
ENTERTAINMENT COMPANY LLC AND/OR ITS LICENSORS.