Sith Trandoshan
Sith Trandoshan
By
Date: 05-29-2003
Screenshots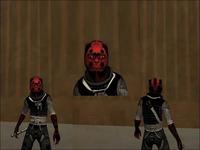 Readme
Author:<Bounty Jedi>/<Kit Fisto> (using two names) on jk2files forums im Link164
Website: Just one in swedish not having much to do with this file if your interested anyway it is at the loooooooong adress
w1.852.telia.com/~u85202344
Email:sneasel_007@yahoo.se

Description:a reskin of trandoshan to make ti more sith-like
installing:
unzip this in your gamedata\base directory.

Notes:

This was made using paint shop pro and the difference between this and mega sith rodian (my orevius very crappy skin made i paint) is huge. Unfortunately it was only the evualation (hope i spelled that right LOL) so ill have to stick with another program ewhen it expires which is not quite as good but i think will do.

Will eventually come with an update with team colors if Paint shop pro doesnt expire to fast.

THIS MODIFICATION IS NOT MADE, DISTRIBUTED, OR SUPPORTED BY ACTIVISION, RAVEN, OR
LUCASARTS ENTERTAINMENT COMPANY LLC. ELEMENTS TM & © LUCASARTS
ENTERTAINMENT COMPANY LLC AND/OR ITS LICENSORS. Blah blah blah!!