-=[Dark Knights]=- Clan Skin - Female
-=[Dark Knights]=- Clan Skin - Female
By -=[DK]=-Defiance
Date: 04-04-2003
Screenshots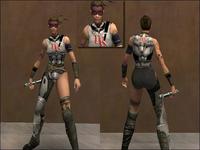 Readme
Jedi Knight II Skin
-------------------

Title : Female version of -=[DK]=-NightEagle's -=[Dark Knights]=- Clan skin. v0.9
Author : -=[DK]=-Defiance
E-Mail :
Website : www.dknights.net

File Name : dkf.pk3
File Size : 1.5MB
Date Released : 04/30/03

Description : There was a growing demand for this skin so I put it out early. Mostly done cut and paste nOob style until the finishing touches are added and bugs fixed. But it does give you an idea of what it's "supposed" to look like.


Comments : As of now it:

Based off Tavion Model<-------(You try figuring out her body part maze....not easy like a Reborn)

All new sounds (all from Tavion)

includes team colors


THIS SKIN IS NOT MADE, DISTRIBUTED, OR SUPPORTED BY ACTIVISION, RAVEN, OR
LUCASARTS ENTERTAINMENT COMPANY LLC. ELEMENTS TM & © LUCASARTS
ENTERTAINMENT COMPANY LLC AND/OR ITS LICENSORS.