-[LotF]-Master Cal
-[LotF]-Master Cal
By {AF}Caladien-LL-
Date: 03-28-2003
Screenshots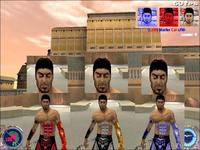 Readme
JEDI KNIGHT 2 SKIN:
=========================


Title : -[LotF]-Master Cal (Lords of the Force)

Developer : -[LotF]-Master Cal-LFM-

Comments : A reskin of the sweet skin called Vithran done by Absath
my new person skin!

BOT: NO
SOUNDS: YES (DUKE NUKEM, NOT MENT FOR ALL EARS)
CTF/CTY: YES

Version : 2.2

Credits : I give most of the credits to Absath for the origional
Vithran skin. And Lee Wright for the robotic arm!

INSTALL INSTRUTIONS : Put the .pk3 inside you GameData\Base directory.


ENJOY!!!!!!!!!!!!