George Lucas
George Lucas
By Romulus
Date: 03-30-2003
Screenshots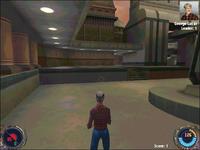 Readme
***************************
JEDI KNIGHT II MODIFICATION
***************************

Title : George Lucas 1.0
Author : Romulus
E-Mail : Romulus@ev1.net
Website : none

File Name : "george_lucas.pk3"
File Size : 985 KB
Date Released : 3-18-03

Description : The creator of the Star Wars Universe, George Lucas!

Comments : This is my first skin, so it's not great. It's just a modified Kyle with a
plaid shirt and jeans really. I don't know how to add sounds nor bot support,
so if anyone could e-mail me and let me know, I would really appreciate it.

INSTALLATION : Put the file "george_lucas.pk3" into the "C:\Program Files\LucasArts\Star Wars JK II Jedi Outcast\GameData\base" folder.


THIS MODIFICATION IS NOT MADE, DISTRIBUTED, OR SUPPORTED BY ACTIVISION, RAVEN, OR
LUCASARTS ENTERTAINMENT COMPANY LLC. ELEMENTS TM & © LUCASARTS
ENTERTAINMENT COMPANY LLC AND/OR ITS LICENSORS.