Music Changer Maker 1.06
Music Changer Maker 1.06
By Samuel Dravis
Date: 02-23-2003
Screenshots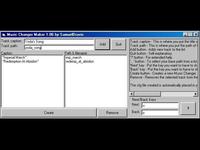 Readme
***************************
JEDI KNIGHT II MODIFICATION
***************************

Title : Music Changer Maker 1.06
Author : Samuel Dravis
E-Mail : N/A
Website : N/A
AOL IM Screename : SamuelDravis

File Name : mcm1.06.zip
File Size : 63KB
Date Released : 2/7/03

Description : Creates a custom music changer without having to edit scripts.
: New in v1.06: You don't have to find your base path anymore.
: Corrected a few syntax bugs in the script created.
: Fixed a major problem that didn't allow switching back with the script.

Comments :If this program doesn't run & says something like 'Required dll missing', download the VB6 runtime dll.
:The file is msvbvm60.dll. Download and place in C:\Windows\System\.
:If that doesn't work, place it in the folder containing the application exe. (mcm.exe)

TO MAKE A NEW MUSIC.PK3 FILE:

1)collect all the mp3 files that you want to have. create a folder under C:\ and name it 'music'.
2)put all the mp3s there.
3)zip the folder 'music' up with your zip program. rename the music.zip to music.pk3.
4)put music.pk3 into your base folder (gamedata/base/)
5)run the program.

THIS MODIFICATION IS NOT MADE, DISTRIBUTED, OR SUPPORTED BY ACTIVISION, RAVEN, OR
LUCASARTS ENTERTAINMENT COMPANY LLC. ELEMENTS TM & © LUCASARTS
ENTERTAINMENT COMPANY LLC AND/OR ITS LICENSORS.